29 Things to do While Walking
There are so many things to do while walking!
In fact, I've come up with the top 29 things to do while walking. I've done all of them and they've kept me walking, entertained, and in great shape!
It's a funny thing when I tell people I really enjoy walking, they tell me it's so boring. Quite honestly, I don't get that. I've found so many things to do while walking.
Walking quiets my mind and allows me to think deeper with more clarity and to be more creative with solutions to pressing issues that are on my mind.
When I was a runner, I really couldn't let my mind wander because the exertion involved prevented me from really getting deep inside my own head.
Once I began walking and listening to my inner voice, my thoughts really became crystal clear.
I was able to write down (speak into the iPhone notes app.) all I was thinking, and I was problem solving:

I created workouts for my Cross-Country team

I created whole lessons for my various classes

I designed the Prayer/Zen garden in my backyard

I've prayed for family and friends

I came up with the idea to create The Walking for Health and Fitness Program in order to help people.
So many good things have come into my life since I began walking that I wanted to share these 29 things to do while walking!
Here is a list of 29 things to do while walking
Workout: By combining walking and bodyweight fitness movements you can create the ultimate fitness routine. I love doing push-ups (See 11 Benefits of Pushups for a Stronger Body), squats, lunges, or planks at various points of my walks.
I add hills to my route when I want a more challenging walk. By combining walking hills and bodyweight fitness, you increase the numbers of calories you burn during each walk.
Thinking/ Brainstorming: What's your most pressing problem? Stuck with a work-related dilemma? Family issues weighing heavy on you? Walking has a soothing effect on the body and the mind. Read Getting in the Zone
I've found the time spent walking has given me more time to think and better analyze problems in my life which has resulted in much better solutions!
Recent research led by the University of California, Los Angeles shows that taking a short walk each day can help to keep the brain healthy, supporting the overall resilience of cognitive functioning.
Use your walking time to create your exciting future!
Day Dream: Getting "lost" in our own world helps you explore new ideas, promotes creativity, improves your memory, solve problems, consolidates learning, improve your IQ, and reflection helps aid your development and well-being! Read Know Your Why.
Now tell me, you couldn't use more of all that!
Pray: Alone with your thoughts, is a great time to get outside of your own head and pray.
Walking Meditation: My idea of walking meditation is to easily walk and breath in an "odd number breathing pattern". For example, I breathe in for 4 steps and breath out for 3 steps this gives me an odd number so that you begin on the opposite foot every 7-step cycle. You can add or decrease the number of steps in the cycle but it must be an odd number.
Also, allow yourself to be aware of the cross-pattern movement of your arm and leg swing.
As you practice this breathing pattern, you'll begin to find that you can quickly drop into it at any time and feel a greater connection of your mind and body. Apply this technique and you'll easily "drop in" to a meditative state.
When the miles pass quickly and you finish your walk refreshed you've hit the meditative sweet spot.
Practice Gratitude: While walking, you can simply take a moment to silently acknowledge all that you have. Giving thanks can transform your life. Gratitude opens the door to more relationships, improves physical health, improves phycological health, helps you sleep better, enhances empathy and reduces aggression, and increases mental strength!
WOW, I'm so grateful to be able to get out and walk most days!
Learn Something:
Learn a new language: Researchers have found that learning ability and memory retention improves because of the extra blood flow that walking brings.

Learn a new skill: Need to learn sales? Marketing? Leadership? There is a wide range of audiobooks that focus on business and work issue. Walk your way to that promotion!
Listen to Audiobooks: this is an absolutely fantastic way to enjoy a walk, pass the time quickly, and add to your knowledge base. Are you curious about the origins of the Universe? Need a dose of fiction to entertain you?
Your local library should have audiobooks in digital, or CD formats for you to borrow.
A good audiobook will entice you to keep walking. On so many occasions, I've continued a walk because of a good audiobook; "I'll walk for just one more chapter"!
Use your walking time to dictate your best ideas into your phone app!
Write Something: You can voice your ideas into your smartphone.
Most smartphones have very good voice-to-text apps that turn your spoken words into text.

Download the text when you get home, put them into Word or any other program and you're on your way to writing the great American novel or that work email you've been procrastinating!
Listen to Music: Let the terrain of the road dictate your music. Nice pleasant road with no congestion; choose a soft acoustic guitar instrumental. Long steep hill, I listen to Tom Petty's "Climb that Hill"! Heavy city traffic, then get aggressive and play some heavy metal…not to loud, you need to be aware of your surroundings!
Photography: You can easily carry a small camera or use your smartphone.
Take pictures and find common themes such as trees, flowers, cars, roadside debris, pets, interesting yard statues, etc.

Post them on Instagram or Facebook while you walk!

I post something almost every time I walk. Sometimes it's a nice photo of what I've seen while out walking, other times it's a quote or walking advice.

Follow me on Instagram: Walkingforhealthandfitness

Like me on Facebook: Walking for Health and Fitness Program
Track Your Mileage: I've tracked my mileage over the past 14 years (I was a runner until a back injury forced me to walk. Now I'm hooked on walking and my back feels great!) and I've mapped out a route that will take me around the perimeter of the United States.
This started years ago as a way to goof on my students and gave me a reason to get out the door when I was less than motivated. The fun part was photoshopping myself along the route. I tell my students, I've run (now walked), the miles, just not in those locations. (More about this in a later post)
Scavenger Hunt: Look out for certain objects. When I walk, I love finding coins on the road…how in the heck does a dime wind up in a small crack in the road far from any houses?
Reconnect with Family and Friends: Make use of your smartphone by plugging in earbuds with mic capability and you can talk to anyone while you are out walking.
Walk the Dog (if you have one, or your neighbor's dog if you don't): What better way to spend a half-hour than with man's best friend exploring the neighborhood. Walking with your dog has the added benefit of reducing feelings of loneliness for you and your dog.
Enjoy the Environment: Just being outdoors in the fresh air gives you a mental boost. Self-esteem is boosted by all outdoor exercise.
Walk with Friends and Loved Ones: Does it get any better than spending quality time with the people you love and want to be with the most? I've always found that my deepest conversations take place while walking.
Walk for Charity: Many 5k road races allow for walkers to line up at the back of the pack and walk the course. You get in a good walk, and they usually take place on roadways that are blocked off to traffic.
Added benefits include cheering crowds and water stops along the way. Everyone needs to be cheered on from time to time! Extra bonus: The event gets your donation!
Have a Destination in Mind: My long walks are to Starbucks or Dunkin Donuts…coffee, snacks, and bathroom! I usually sit and write down the ideas and thoughts I had while walking.
Find your Happy Place: It's that place that is yours alone where you spend time with yourself. Mine is on a rock ledge overlooking the forest near my home. It's secluded, quiet, peaceful, and I meditate there.
Walk in Pleasant and Enjoyable Places: On the beach at the Jersey Shore is one of my favorite places to walk. Also, this past summer, my family and I walked the Marginal Way Walking Trail in Ogunquit Maine.
Find walking routes that are both scenic and less congested. My new favorite is a route I drive to in the neighboring town. The streets are wide and the houses are big so traffic is kept to a minimum.
Discover, Explore, and Learn History: I frequently walk in the Fort Lee Historic Park overlooking the Hudson River. The park includes a Revolutionary War Museum and paved walking paths.
General George Washington's men were surprised by the British and began the Continental Army's retreat through Bergen County. Fitness and history all one walk!
Window Shopping/Mall Walking: Map out a route that takes you through your town's main shopping streets. Another great idea is to hit the mall and mall walk! Indoors, comfortable climate, no rain, places to sit and get a beverage and snack. Perfect!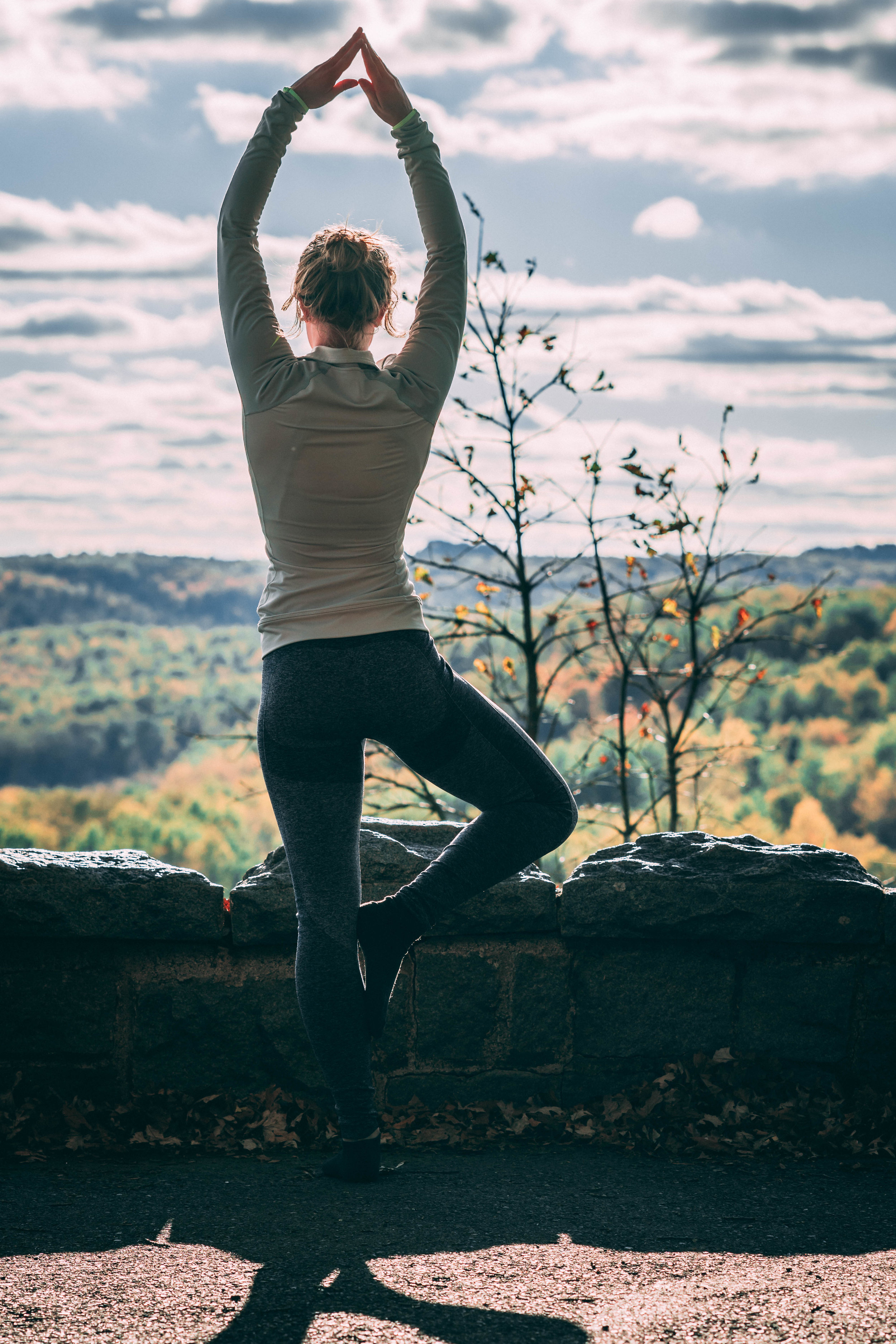 Breath slowly and raise your arms.
Do Yoga: As you walk, you can perform some basic yoga such as partial sun salutation. Just walk comfortably and Breath in slowly and raise your arms out to your sides and up until both palms touch over your head. Exhale as you bring them down to your sides.
To stretch your chest and shoulders, try the following:
Interlace your fingers behind you, with palms toward your back, and gently raise both arms while you continue to walk along.

Hold for as long as comfortable. Repeat both moves periodically throughout your walk.
Spread Happiness: Over the years I've noticed the more people on the street I wave to, the more waves I get back. It wasn't long before people began waving to me first. I usually wave to any car that gives me a wide pathway to walk.
You can tell beforehand when drivers move to their left as they pass you. I always give these drivers a wave of thanks. I figure the good karma coming my way will help me during the times that fast drivers get too close for comfort.
Rehearse a Presentation or Speech: Do you have a big presentation or speech coming up? Rehearse it out-load on the road during your next walk. Say it out loud with all the hand gestures you need to get made a bold statement. No need to feel embarrassed, most people will just think you are talking on your cell phone.
Problem Solve: I usually type out on my iPhone Notes app. two or three pressing problems that I need to resolve. I head out the door without thinking about the problems, then I just let my mind wander. I'm always amazed at how often the solutions just appears and usually in the last 10 minutes of the walk.
I then speak into the app to get it down before it's gone. Give this method a try, be open to the process and you'll find yourself solving many of your most pressing problems.
Community Service: Clean up your walking route. Bring some work gloves and a plastic trash bag with you on your next walk and pick up the cans, bottles, and paper you see along the way.
I notice that most people clean up the front of their property but in wooded sections along a road, most towns only send out a cleaning crew once a year if that.
If nothing else, you get to walk along a tidy road the next time you walk that route.
Write an eBook, create a website and complete program and go for it!
Start a Business: What Frank? How can you possibly start a business while walking?
Well, you're looking at it! I dreamed (Day Dream) about owning my own business and the idea for the idea for Walking for Health and Fitness came to me while out on a long walk.
During most walks since then, I have used my walking time to come up with ideas (Brainstorm) for blog post and YouTube video topics.
I've listened to audiobooks (Learn Something) to get Internet marketing advice from marketing professionals, dictated ideas (Write Something) into my iPhone notes and planned out (Thinking) the contents of my Walking for Health and Fitness eBook and program.
I've taken photos (Photography) that have shown up on the website, Facebook page, YouTube videos, Instagram, LinkedIn, and Pinterest accounts.
I've learned new skills (Problem Solving) to overcome a number of Internet marketing issues including, how to set up an email autoresponder, how to shoot video, and how to write for the web.
I wrote my eBook and asked for guidance from above (Pray).
Whenever I got a little stressed I listened to relaxing subliminal audio tracks (Listen to Music).
Lastly, my hope is that this website helps people in need of health and fitness advice (Spread Happiness)!
Notice how many of the 29 things to do while walking showed up in creating my Walking for Health and fitness website and program.
Your Next Step:
There are so many things to do while walking! Pick one of the examples from this post and give it a go.
Explore any one of the 29 things to do while walking. Enjoy yourself, enjoy new places, and learn new things. Exercise has never been this easy and fun, you deserve it!
Walk On,
Frank
PS Share this with your friends, then get out and walk with them!